HEAVENLY HERE WITH YOU
has been nominated for
2016 SONG OF THE YEAR
by the
WESTERN MUSIC ASSOCIATION
LOVERS, WIVES & MOTHERS
is sitting at #2 on the WESTERN MUSIC chart
BOTH SPRING & SUMMER QUARTERS!
#2 for the entire first half of 2016!!
 
HEAVENLY HERE WITH YOU
and
COLORS IN THE RAIN
are sitting #2 and #6 respectively
on the TOP 10 MOST PLAYED SONGS list!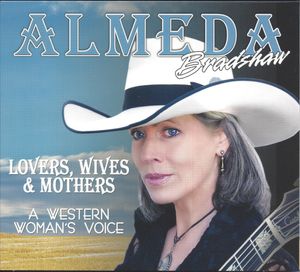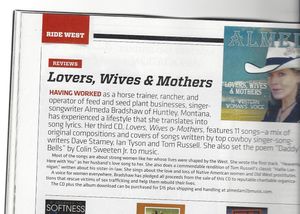 The PRAISE & REVIEWS of
LOVERS, WIVES & MOTHERS
"A phenomenal CD.....I absolutely love it! I hit the play button over and over again. This project is tremendous. The well-thought out variety of (songs) you offer....each one is clearly your voice and clearly your inspiration......you take us on a distinctive musical journey." 
Bobbi Jean Bell, OUTWEST Boutique & Cultural Center, Newhall, CA & CAMPFIRE CAFE RADIO SHOW HOST, Equestrian Legacy Radio, Nashville, TN 
More from BOBBI JEAN BELL of 
OUTWEST Boutique & Cultural Center
Newhall, CA
http://www.outwestmktg.com/
"I've been particularly moved by "Parker Eyes of Blue," nominated for a Spur Award by
the Western Writers of America, Inc.  Its worth the investment of the whole CD to hear
it - as its length may exclude it from airplay - although it's air worthy!!
Captivating, engaging, thought provoking, haunting and educational -
it has made me want to explore her story more."
"Almeda Bradshaw's focus and passion show through in all of her projects.  Add in her songwriting, vocal, and musical talents, and her albums stand far above the ordinary. Her latest effort, "Lovers, Wives & Mothers:  A Western Woman's Voice" takes a deep look into Western life, and it shines.  Painstaking  production care is evident throughout.  Love, hurt, history, and truth are represented in this fine collection, which, she writes, "... is dedicated to victims of sex trafficking."
Margo Metegrano, BAR D RANCH, www.cowboypoetry.com, December, 2015.   See the review here:  
http://www.cowboypoetry.com/sincenews3.htm#ab


"Almeda Bradshaw is on a mission.  All profit from this CD's sales goes to organizations that work with victims of sex trafficking. Featured are five Native American singers and eleven supplemental musicians, so you know immediately this release wants to say what it says in a special way. 

Almeda begins with a launch from a platform of safety.  "Heavenly Here With You" is the song she wrote to express the love and trust she and her husband both feel.  Then she plumbs deeper.  This isn't to say the album's effect is a downer…anything but!  It's hopeful in its reflection. 
Two of Dave Stamey's probing portraits "Rosa May" and "Crazy Mary" are here and a third is answered with Almeda's "Davy Don't You Know."  Some of Tom Russell's tough minded creations inspired this CD, and one of them ("Hallie Lonnegan") rests here. So does Ian Tyson's "Somewhere In The Rubies." 

Also Almeda's originals are top notch, so whether you measure by content or performance, this stands as her best release to date.   - by Rick Huff, Rope Burns, December, 2015.  See the review here:  http://www.cowboypoetry.com/rickhuffreviews7.htm#almeda

 
"Almeda Bradshaw.....her new CD, subtitled "A Western Woman's Voice," focuses primarily on frontier women, and her Americana originals recount their true stories. Bradshaw's clear sweet alto and fluid guitar work complement her storytelling style, and here she is backed by accordian, mandolin, steel and more. I like it."
- Mariss McTucker, Lively Times, December, 2015.  Read the full review in the December issue of Lively Times.
"Great version of HALLIE LONNIGAN! I dig the bluegrass edge and your vocal has the right attitude, for sure. I'm honored. I look forward to the whole record. Adios, Tom"
TOM RUSSELL, Singer Songwriter, 2015.
"We heard ALMEDA sings songs from her new album LOVERS, WIVES & MOTHERS at a WMA Colorado Chapter show case. Her guitar was masterful and her voice angelic. The crowd was spellbound! We reserved our copy right then and there and can't wait to hear this cd!"
Allen & Jill Kirkham, 2015 WMA Crescendo Award Nominees. 
LINER NOTES from Lovers, Wives & Mothers
HEAVENLY HERE WITH YOU is my husband's love song to me. I had to write it. And I have to sing it to myself, but I don't mind because the sentiments go both ways! This song is full of that "sky is always blue" western music spirit.
 
COLORS IN THE RAIN After we met at the 2009 National Cowboy Poetry Rodeo in Montrose CO, my friend and fine poet, Bette Wolf Duncan, gave me her poem of unrequited love to put to music. I appreciated her faith in my ability. 
 
DAVY DON'T YOU KNOW is my answer song to Dave Stamey's  SHARON LITTLE HAWK. Remembering Sharon, Dave wonders if  "life took you where you wanted to go." For Sharon, the answer is simple. She is with her people, the Crow.
 
COLD AS CLAY I wrote this song in 2007 as my former marriage was coming completely undone. There is nothing western about this song. It's pure bluegrass with a typical betrayal and broken-heart theme. But it does have a positive message.
 
ROSA MAY This is Dave Stamey's beautifully bleak song about the reality of a prostitute's life. Back in the day this song is set, abused, abandoned and divorced women faced  few economic or socially acceptable options. Today, economics remains the primary motive for prostitution and it is most rife among poor uneducated women. Human sex trafficking is a $32 billion dollar global industry, a horrendous scourge on humanity.
 
THE LOVE OF LOTTIE JOHL is the story of a woman who came to Bodie, CA, in the 1880s as a prostitute. Hers is an original "Pretty Woman" story without Hollywood's glamorization. The story is true except for my conjecture that the butcher's wife knew more than she would tell. We will never know the truth behind Lottie's death.
 
HALLIE LONNIGAN Tom Russell is the reason my LOVERS, WIVES & MOTHERS album came to be. Listening to his songs of raw emotion and gripping vignettes of life and death while driving home from Durango in 2014 was epiphanal. My cowboy songs would have to wait. I love HALLIE LONNIGAN, Tom's song about the strength of women.
 
DADDY'S BELLS is a heart-warming song adapted from Colen H. Sweeten Jr's poem of the same name. It refers to the bells on the harness of a freight wagon team and what it meant to the family to hear Daddy's bells when he returned from the dangerous job of hauling freight up to the mines.
 
CRAZY MARY is another touching song by Dave Stamey. Mary's husband never returns from hauling freight.
 
PARKER EYES OF BLUE tells the story of Cynthia Ann Parker's abduction by Comanche Indians. As a mother, I can feel the agony of losing a child under any circumstance, but to such brutality, it is particularly horrifying. I have always been intrigued by Cynthia Ann's complete assimilation into Indian identity and what happened to cause her to not be able to be white again. After reading S.C. Gwynne's book Empire of the Summer Moon, I began to understand. Cynthia Ann is a classic case of what we now call Stockholm Syndrome.
 
SOMEWHERE IN THE RUBIES TONIGHT is an Ian Tyson song I first heard in Elko in 2009. His performance made me weep and when he commented afterwards that he had written it for his daughter whom he had lost contact with through divorce, I was touched even more. My daughters and I know that pain. This is a beautiful song expressing the heartache, confusion and longing born of a family torn apart.