"I had to move EAST to find the WEST. Though raised a town girl on the Oregon coast, all I wanted was to be a cowgirl. I spent hours riding the range of my imagination in a swing set saddle and when tall enough, I threw a leg up on my family's trusty propane tank and rode off into many a sunset."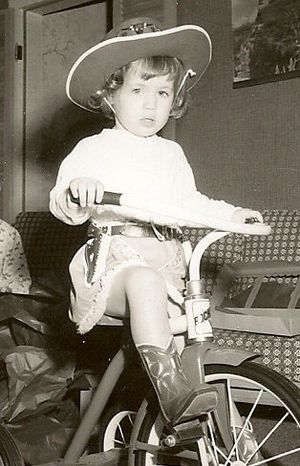 Her family's move to the country brought horses into Almeda's childhood and they remained a staple of her adult life. Almeda raised her family in north central Montana, while breeding and showing performance horses, running 150 cows and operating a seed plant and feed business. She now helps train AQHA performance horses with her husband, former Marlboro Man, Merritt Bradshaw, on the Yellowstone River in Huntley, Montana. 
A multi-instrumentalist, Almeda studied cello and piano through college, has a BA in Elementary Education and is self-taught on the guitar, mandolin and various other stringed instruments. She taught students of all ages to play strings from her former private studio and retail store, A Room For Music, in Big Sandy, MT. Almeda has written poetry, journals and songs since her teen years and has been performing at cowboy gatherings throughout the west for nearly two decades.
INFLUENCES
 
Almeda grew up listening to her dad's lp collection of big bands, the Boston Pops and classical orchestra music until an eye-popping epiphany happened while watching the Beatles' American debut on the Ed Sullivan Show. Though classically trained through college on piano and cello, her musical alter-ego was fed through the guitar which she taught herself to play at age thirteen. It was the Nitty Gritty Dirt Band's "Circle" album that turned her on to the flat picking style of Mother Maybelle Carter. Though covers of Bob Dylan, Crosby, Stills, Nash and Young, Joni Mitchell,  Fleetwood Mac and others from the 60s and 70s took over her teenage years, Almeda later returned to the heart of her musical soul in Western Americana/Roots Music, an eclectic mix of cowboy, bluegrass, old-time, folk and spirituals. There she remains.